As dog owners, our top priority should be to make our fluffy friends the happiest they can be. However, the first step to achieving that is keeping them safe, which is one of the main struggles of dog owners worldwide. Fortunately, there's a way to keep dogs safe and happy, and that's by using the best smart collars you can find on the market.
Do you wonder what smart dog collars are? They work like a regular dog's collar but have advanced features to improve your dog's life and help you take care of it. The problem with that is many people don't know how these products work.
There's no need to keep worrying about that! We are here to help you find the best smart collar for your dog. This list includes the nine best smart dog collars out there, but we recommend you get the top choice on this list, which is the Halo Collar.
Although the Halo Collar is expensive, the Halo Smart Collar comes from one of the most famous dog trainers worldwide: Cesar Millan. The best thing about buying this collar is that it includes smart geo-fencing and activity tracking. If you don't like that one, you can get the SpotOn or the Wagz collar.
Nine Best Smart Dog Collars
We are here to show you the best smart collars you can find on the market, so this page has the best nine options for you. All nine options are excellent, but we recommend you go for the best one or the runner-ups.
Our goal is to be as objective as possible, so we are going to use affordability, benefits, technology developments, and how easy it is for you to use them as the main factors for qualifying these collars.
#1 Halo Collar – Best for Dog Training
These are the main benefits of getting the Halo Collar:
Custom alerts
Activity tracking
Training program
Smart geo-fencing
GPS tracking
The best Halo thing about the Halo smart collar is that the famous dog trainer Cesar Millan created it, and you can trust him to know everything there is to know about dogs.
It's not difficult to notice he was the one to make this smart collar since it has ideal custom commands for you to train your dog with Cesar Millan's training program. You can order this collar in black or white and use it for dogs of all sizes. The collar is available in small, medium, and large sizes, so you need to check which one works best for your dog.
Technology developments are optimal for this dog's collar since it features a smart fence function that helps you know what happens to your dog at all times since the collar's app will tell you if there's any problem.
The only issue with this smart collar is that it's a bit too expensive, so it may be difficult for people working on a budget to get it. Regardless of that, this product is worth that price due to everything it gives you and how it helps you train your dog. Overall we love the Halo Collar and the reviews around the web say the same.
Visit The Official Site – Best Available Pricing
#2 SpotOn – Best for Dog Fences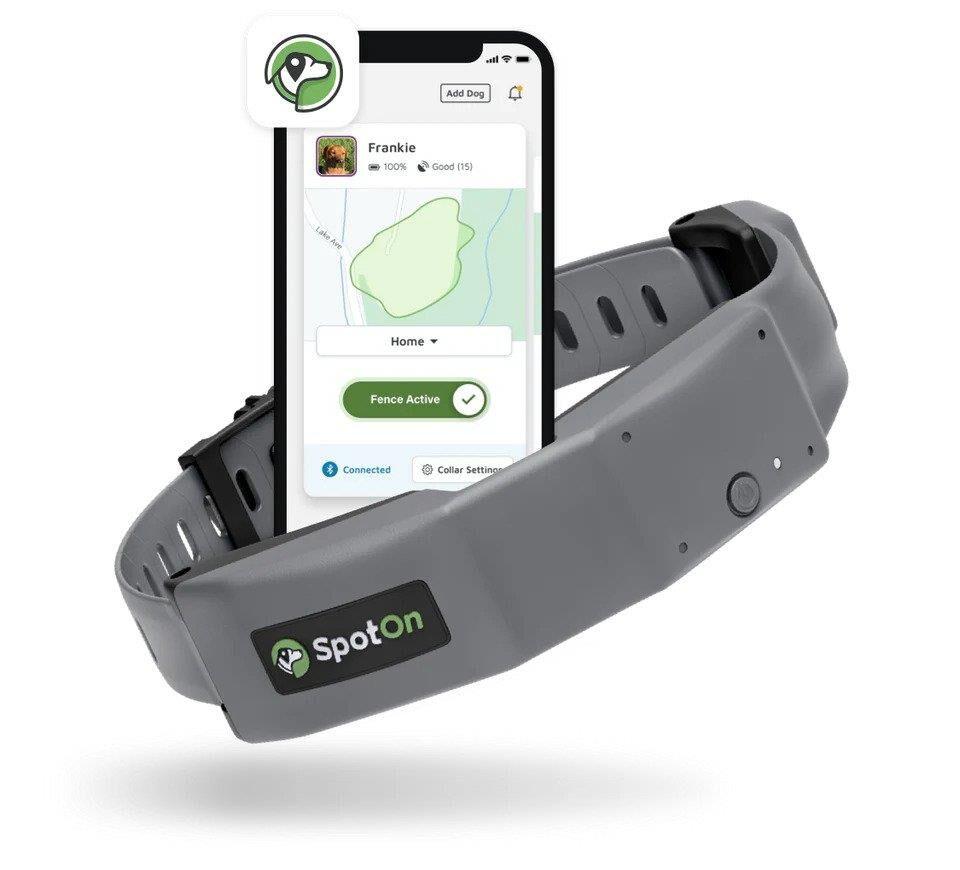 Being the runner-up is also an amazing spot on this list, so here are some reasons why the SpotOn collar is the runner-up of this list:
It has decent battery life.
It creates virtual dog fences of different sizes for you to check what happens to your dog at all times.
It's supported by famous companies like Wired and Forbes.
It has an easy-to-use app.
Creating virtual fences for your dog is one of the best things you can do to keep it safe since it helps you know what happens to him whenever he steps out of them.
However, these fences are only as useful as the freedom you have to make them, so it won't help you to only make small fences or fences that are all too wide and that don't give you any information. The SpotOn dog collar is here to change that.
This smart dog collar lets you create fences of the size you want and follow unusual property lines. These fences can go through water or any heavy brush or buildings, and that's perfect for people who live close to many obstacles that would interfere with what the dog collar does.
Using this collar's app is simple for everyone regardless of whether they have used a smart dog collar in the past or not. This app's interface guides you through all its features and simplifies everything to avoid any problems while checking on your pet.
The process to create virtual fences with this smart dog collar is not difficult at all, since the only thing you need to do is mark your territory, teach your dog to move inside the fence, and check how everything goes from your phone. Yes, you can do that from your smartphone, so you don't even need to move from your house. You can compare the SpotOn collar vs Halo collar here.
Visit The Official Site – Best Available Pricing
#3 Wagz – Dog Collar with No Pet Shocks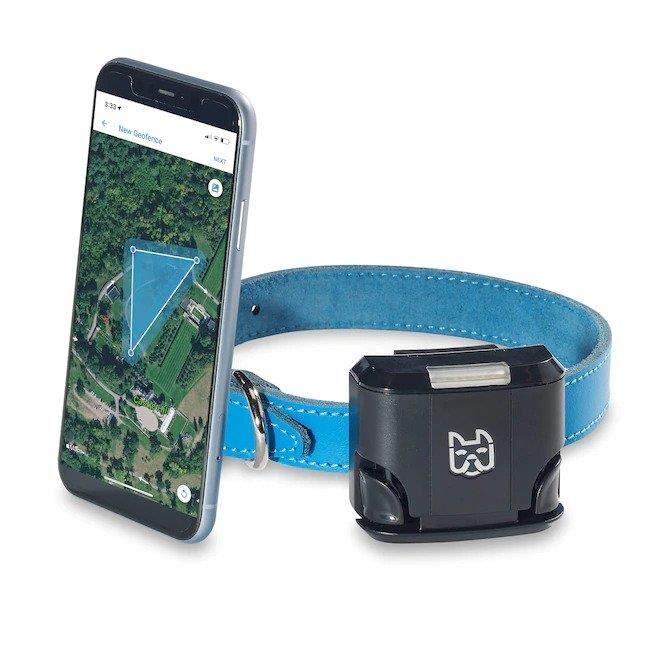 These benefits make Wagz an amazing option for your dog:
It never shocks your pet.
It always keeps you connected with where your dog is.
It lets you keep track of your dog's health.
It includes fitness mapping.
Getting to the third dog collar on this page, we have the Wagz smart collar. As you could see, each product on this list focuses on addressing a different situation, and that allows you to pick an option that adapts to what you need or what would help your dog the most.
Many smart collars are not that good for dogs since they shock them whenever there's an alert or command coming from the collar itself. People at Wagz don't believe in shocking your dog, so it uses vibration and ultrasonic sounds to let your dog know it is close to a fence and that it can't go past it.
You can make geofences in a matter of seconds from your smartphone thanks to this collar, and that includes customizing the fences you made in the past. This app also has instructions and guides to teach your dog to stay within the fences you create.
Battery life is not an issue with Wagz, but you can get a boost battery kit if you ever need it. One of the main benefits of using a smart collar is you can check how your dog feels.
It's sometimes difficult to tell if your pet is feeling down or if it's sick, and this collar helps you identify all those things by checking its app. Use its activity and wellness tracking feature to see what your dog needs and what you can do to help it.
Fitness mapping is also something you can make some use of when you start using this app since it allows you to track how far you walk with your dog, the calories burned by it, and how your dog's daily activity improves its well-being over time.
You shouldn't worry about affordability when getting the Wagz collar since, although it's not the most affordable product on this list, it's still among the inexpensive ones. You should go for it if you are working on a budget or don't want to spend that much on it.
Visit The Official Site – Best Available Pricing
#4 Tractive GPS Dog Tracker – Best for Checking Location History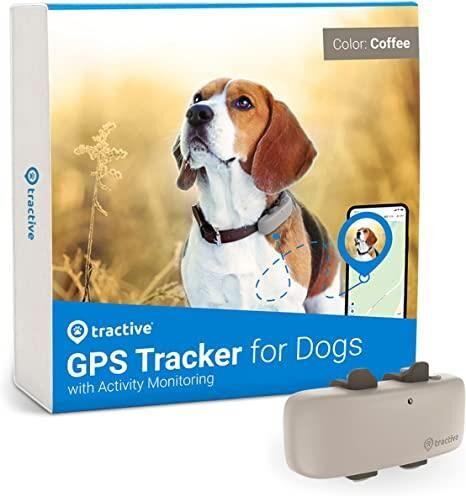 Do you wonder why you should use the Tractive GPS Dog Tracker? Here are some reasons to do it:
It has an app that lets you check all the collar's features.
It features virtual fences.
You can see your dog's location at all times.
It has activity tracking.
It offers location history.
While many people expect smart collars to do many things for them, the main feature you should look for in one is that it has a decent GPS tracker. This feature is what made smart collars popular in the first place since they helped pet parents find their dogs whenever they got lost.
The Tractive GPS Dog Tracker is among the inexpensive pet trackers on the list, and that makes it perfect for people who don't want to spend a lot of money on something that won't go out of their dog's neck.
Being able to create a virtual fence around your dog is a useful feature if you know how to use it, so try it if your dog leaves your house or if you are scared of it getting lost. This smart collar is lightweight, so it shouldn't make your dog uncomfortable.
Although this collar's battery life is not bad, it comes with a rechargeable battery that lasts up to five days depending on how much you use it.
The setback to using this product is that it only comes in white, but that shouldn't be a problem since it makes finding your dog easier for everyone.
#5 Fi Smart Collar – Best Technology Developments and Features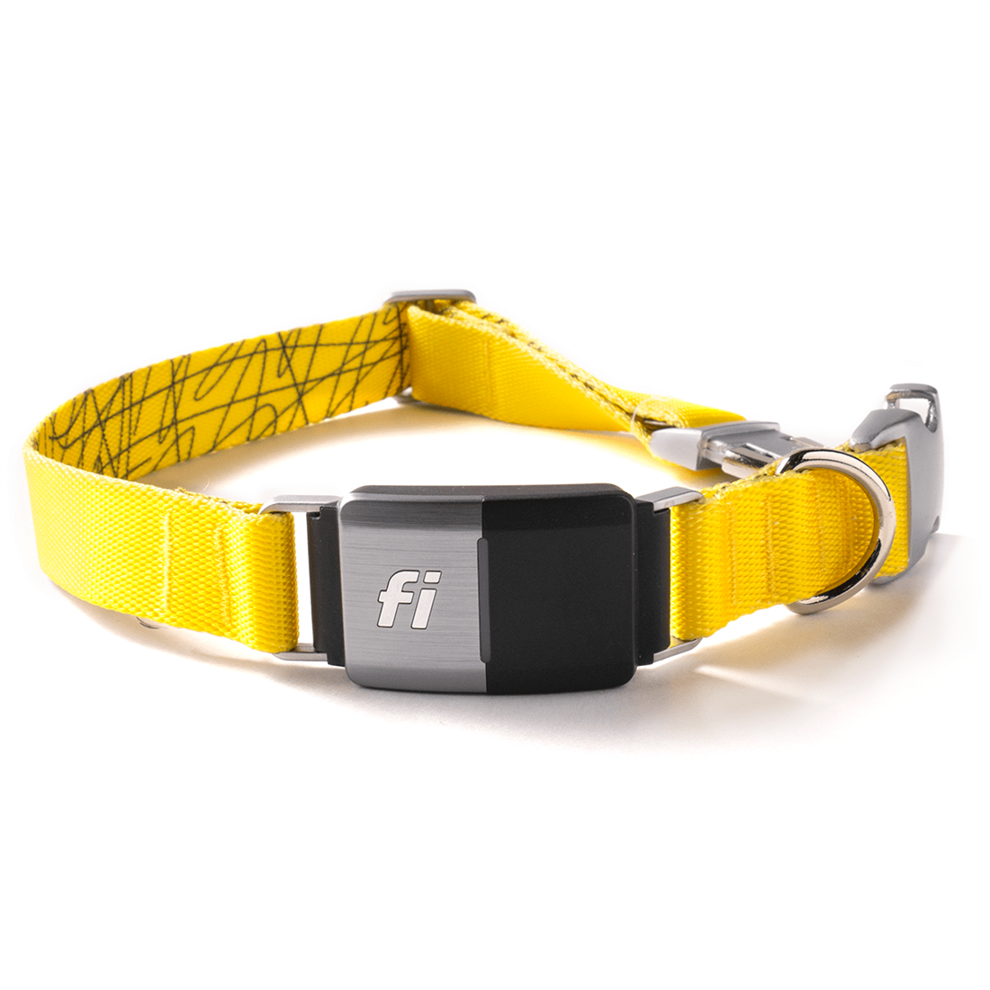 Here is what the Fi Smart Dog Collar has to offer you:
Connect with other Fi Collars
Real-time location
Pet tracker
Geo-fencing
Activity tracking
LTE-M cellular network technology
If you are looking for the most advanced and modern smart collar you can find, then the Fi Smart Dog Collar may be the option for you. It's not difficult to see this smart collar take the top places in most tier lists regarding dog-care products due to how easy it makes it to take care of your little friend.
The accuracy of the GPS the Fi Smart Collar offers you is off-the-charts, and that makes you feel safer at all times since you can check on your dog whenever you feel like it. This collar's app is ideal for pet parents since they help you track your dog's location, activities, and even stats.
One of the reasons people love the Fi Smart Dog Collar that much is due to all the innovative functions it has to help you take care of your dog and have more fun with it. This collar's app allows you to see the other dogs using the same collar in your area to help you connect with them and meet them.
As for affordability, we wouldn't say the Fi collar is an affordable option compared to other GPS collars, but it's not outrageously expensive, either, so you can pay for it if you save some money.
This product's battery life is decent and lets you use the app's health tracker for a long time. However, if you have more questions about the product's battery life, you should ask them directly to the people who sell it to you.
Don't worry about losing your dog since the Fi collar allows you to set a lost pet alert that helps you when your dog leaves. Like other Bluetooth trackers, these alerts are triggered by the app as soon as something odd happens, but things work out more smoothly due to the LTE-M technology the Fi collar uses.
Aesthetics are also something you don't have to worry about when using this app since it's available in grey, blue, pink, and yellow band colors. Take a look at them all, and choose the one you like best!
#6 Findster Duo+ – Best for GPS Tracking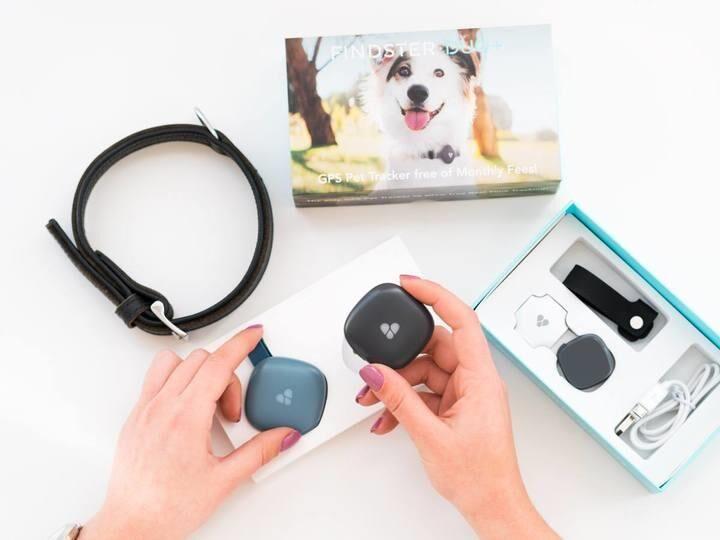 This is what makes Findster Duo+ a good option for you:
Excellent GPS tracking.
You don't need cellular coverage to track your dog.
Its app is intuitive.
It uses virtual fences.
Although you may guess it by reading its name, the Findster Duo+ collar works as an excellent GPS tracker for pet parents scared of losing their dogs. Therefore, all the features this smart collar offers work around that goal. This can be a problem if you want this product to do what other smart collars do, but it's still excellent when comparing it with pet trackers.
Using this smart collar is not difficult due to how intuitive its app is, so you don't need to worry about getting lost along the process. Apart from that, it uses top-tier MAZE technology for you to be able to use the collar's GPS tracker without having cellular network coverage.
This is your must-go option if you are looking for a budget-friendly pet tracker since you don't need to spend any money on subscription plans to enjoy this smart collar's features, and that helps you save a lot of money in the long run.
Regardless of its battery life, this smart collar updates your dog's location every two seconds. If your dog ever goes past the virtual fences you set for it, the app will show you for you to start looking for it.
#7 Whistle Go Explore – Best for Checking Daily Dog Activities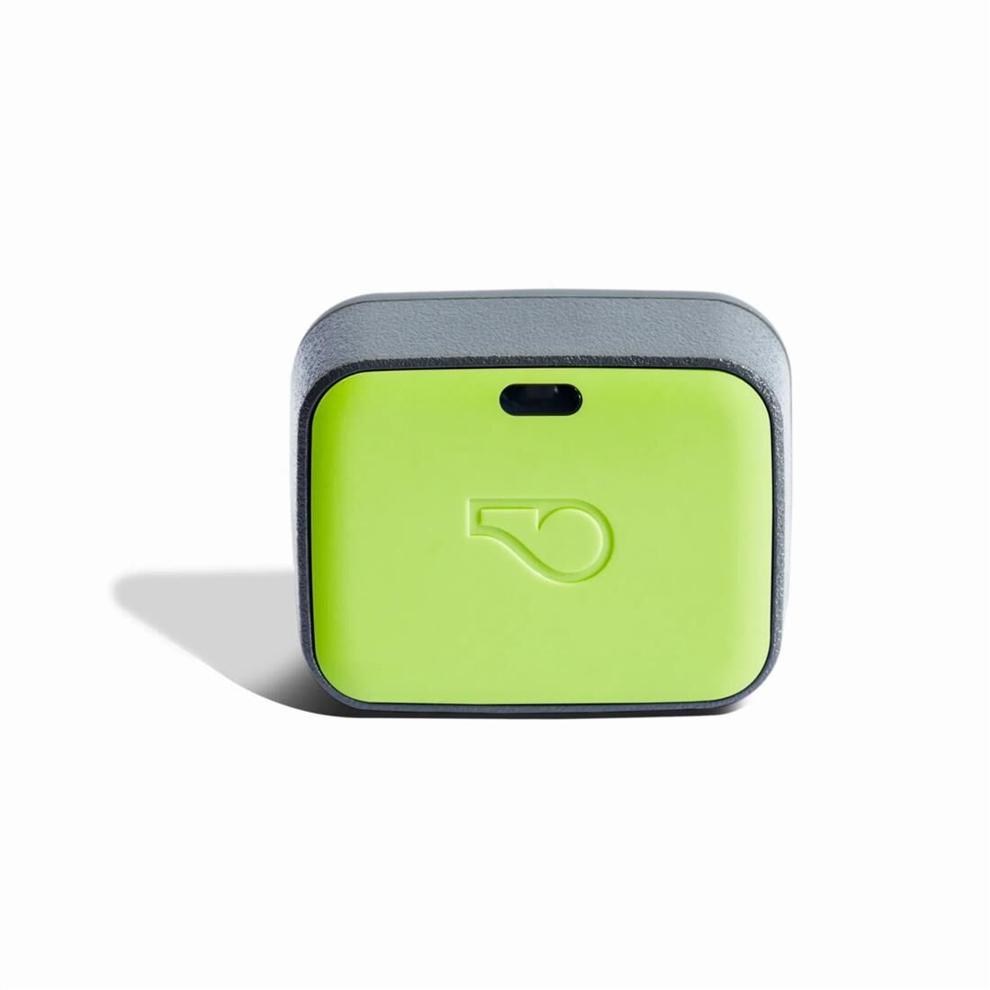 Look at the main benefits the Whistle Go Explore brings to your dog's life:
It allows you to find your dog or know when it's missing.
It lets you check your dog's help.
It has a tele-vet.
You can use it to calculate the food portions you give your dog.
The Whistle Go Explore collar is one of the most modern products on this list, and you can see how the technological developments it features help you take care of your dog and check on its daily activities.
You can connect this app to Google Maps to track your dog's location at all times, so this collar also works as a GPS tracker to find your dog whenever it gets lost. However, what makes this product that good among other options on the market is how it helps you take care of your pet.
This app's tele-vet allows you to know what may be bothering your dog whenever he feels sick. Additionally, submitting your dog's data and stats lets the app show you the food portions you should give it to make sure he's healthy and happy.
#8 Petfon Pet GPS Tracker – Best for Long-Distance Tracking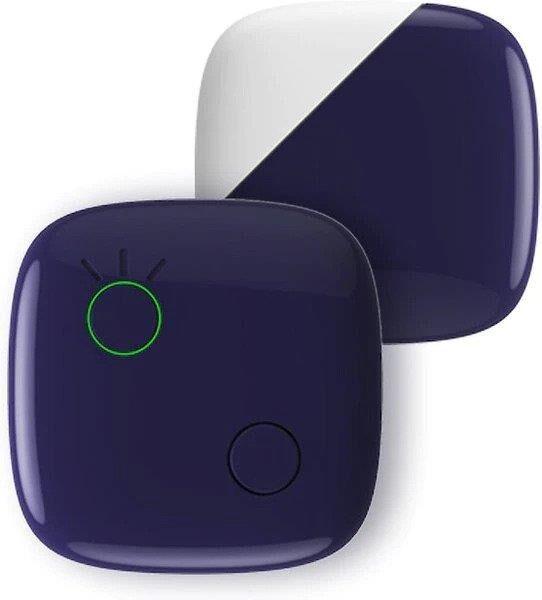 The Petfon Pet GPS Tracker shines because:
You don't have to pay a monthly subscription fee for it.
You can use its anti-lost pet radar to find your dog when it gets lost.
You can customize its alerts to your taste.
Losing your dog is one of the worst situations you can go through as a pet parent, and we know how stressful the thought of not seeing your dog again can be. No one should go through that problem, and this collar is here to help you prevent that from happening.
This collar does that with its anti-lost radar that helps you know where your dog is when you can't find it. Naturally, this product does this with a real-time long-distance tracking GPS feature installed in the collar itself. Geofencing is also an essential part of this process.
The problem with many dog collars on the market is they are all the same and don't allow you to customize things to your taste and what you would like for your dog. Therefore, the Petfon tracker lets you use multicolor alerts and customize the collar's voice command to what you want it to be.
#9 Fitbark GPS Dog Tracker – Best for Health Tracking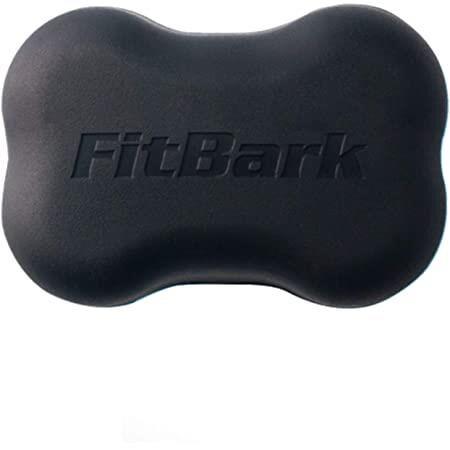 Getting the Fitbark GPS Dog Tracker can help you a lot because:
It shows you where your dog is at all times.
It uses Wi-Fi and LTE-M coverage.
It monitors your dog's health and sleep quality.
It's comfortable for your dog.
You can link it to your Fitbit or Apple Watch.
The Fitbark GPS Dog Tracker takes the last spot on this list, but that doesn't make it a bad option. On the contrary, this Fitbark product helps you make sure your dog is healthy and happy most of the time.
Firstly, this product does something that almost none of the other smart collars can do, and that means checking your dog's sleep quality. Not sleeping well can cause a lot of damage to your dog over time, but it's difficult to tell when that happens if you are sleeping, too.
Therefore, it's excellent to have a product like the Fitbark collar that shows how your dog sleeps and feels daily. Once you notice those issues, you can work towards finding a solution for them.
This product is not expensive, so you don't have to worry about spending all your money on it.
FAQ/Buying Guide
Here are some of the most frequently asked questions people have about smart collars. They can help you when looking for one!
How Can You Choose the Best Smart Collar for Your Dog?
The best way to choose a smart collar for your dog is to know what your dog needs in one. It's not the same to get a collar for long-distance tracking as buying one that lets you check your dog's health.
See what you need your collar to give you, and see if one of the collars from this list offers you that!
What Should You Look for in Smart Collars?
If you want to buy a smart collar for your dog, you first need to know what to look for in one. We consider the main boxes each collar should check as offering a GPS tracker, health monitoring, and the possibility to create virtual geofences.
What Are the Benefits of Getting Smart Dog Collars?
Getting smart collars for your dog can bring many benefits to your dog's life, and one of them is that it helps you find your pet if it gets lost, which is already something that makes buying it worth it.
However, if your dog collar features health monitoring, it also helps you know what your dog needs at all times, and that allows you to make it the happiest it can be.
Conclusion
As you could see, getting a smart dog collar is the best step you can take in taking care of your dog and training it. Technology developments help us improve how we live, and since now, we can use them to improve how our dogs live, there's no reason we shouldn't do it!
Check which option you like the most, and get it to see how much it can help you raise and take care of your pet! Check out our other dog articles such as the K9 Training Institiute Review.
Visit The Official Halo Site – Best Available Pricing
.