Just because your pup likes going into your neighbor's backyard to play with their garden hose doesn't mean you should let them. As fun as it might be for them, having a GPS dog collar and a wireless fence, is often the best way to keep track of where they are, make sure they don't wander off, and monitor their health.
Hint: The Halo Wireless Fence is, for sure, the best alternative since its developer is one of the most famous dog trainers in the world (you get extra points if you've watched his show – try to guess who he is!).
 It offers everything this comparative review will discuss, and even though it might not be the right fit for absolutely every dog owner in the world, it could be the right one for you. But don't just take our word for it, The Halo Dog Collar tops the lists of many reviews such as the Tampa Bay Times Best GPS Collars or the Animal Wellness Best Invisible Fences For Dogs.
When you're done reading this detailed article, you'll know exactly what to look for in a dog collar and wireless fence. Thus, find out which one you should get for your pup and make sure they're safe!
Complete Review of GPS Dog Collar and Wireless Fence – Which One Should You Get?
Finding the ideal dog collar and wireless fence with GPS features requires you to examine different alternatives, particularly if you have specific worries about your dog.
Some owners want to know where their pup is at all times, and others need an item that helps them correct their behavior. Regardless of the case, you must compare various alternatives before choosing yours, so this list offers some of the options you must keep in mind if you're looking for high-quality, innovative products.
#1 Halo Dog Collar – Best Overall
See the Halo collar work here! Get 6 months of Free Halo Gold plan with purchase
This dog collar by Halo is a GPS tracking device, activity tracker, containment system, and dog fence all in one.
If you're looking for a product with extra features for your dog, this might be your ideal pick. It goes beyond just tracking the whereabouts of your furry friend because it focuses on helping them remember the boundaries you set.
The collar contains all the data regardless of whether or not you're on WiFi. Therefore, you don't need to be connected to use it.
Furthermore, the Halo collar's features are unique, and the kit includes accessories. Here is what you get:
USB-C cable for you to charge it
A quick-release collar strap
An outdoor beacon
Contact blanks
A case available in two colors
Four contact tips
The Halo collar and fence help your dog learn the boundaries you set for them, and this is not by chance – the designer of this kit was the world-renowned trainer, Cesar Milan.
Benefits
On the one hand, buying this kit helps you stay informed about your dog's whereabouts. In other words, you can quickly know where they are, and you can check whether they're resting or moving.
At the same time, the kit allows you to monitor their process. Thus, you can see if they're learning, and you can scan the encouragement/warning training by watching the beacons to see if they're triggered.
Since it has GPS location tracking that works without WiFi, you don't need to stay connected to know where your dog is. Additionally, the collar will correct their behavior, regardless of whether or not you have an internet connection.
You don't need to install a traditional fence with this kit. Instead, you can set it up in the app or walk around your property's boundaries holding the collar. Therefore, there is much less of a hassle because you can forget about any wires or complicated installation processes.
Once you download the app, you get access to a 21-day training program with Cesar Milan. If you get Premium lessons, you'll also be able to connect with other trainers.
Lastly, you will receive notifications and 'escape warnings' if your dog leaves the safe zone. This happens immediately, so it's a top-notch system that lets you take action if your furry friend decides to take a stroll elsewhere – you can quickly find them!
Drawbacks
Even though the Halo is immensely useful, it's also very expensive. Therefore, you might not be able to get it if you're on a budget.
The Halo's quick-release closure is made of plastic. If your dog likes to chew, you might need to buy a replacement at some point.
With a gold plan, you can replace your collar for $399 – $499, but this depends on the level of your plan.
Finally, you can choose the nature of the corrective warnings your dogs will receive. You may select buzzings, beeps, or static feedback. Even though the electrical static pulse is optional, and it should be a 'tap-on-the-shoulder' sensation, your dog might not like it or respond well to it.
However, the Halo is still the best product compared to others because its training method is immensely effective and can help you handle the difficulties of having an energetic pup or a forgetful pup – in both cases, they might wander off and get lost. Forget about all your worries if you buy this product because you'll be able to track your pet's whereabouts and train them.
Since it also monitors your dog's activity, it's a useful item for when you want to make sure that your pet is healthy. Overall, it's a unique product that many clients love, which is why it has multiple positive reviews.
What Makes it Stand Out?
There are a few things that make the Halo the best dog collar and fence out there, particularly when it comes to comparing its characteristics to the ones that other products offer you. Take a look at what you should keep in mind:
It's a high-end product
Offers innovative technological features
It's expensive
Top-notch technology
Developed by Cesar Milan
Effective and useful
#2 SpotOn's GPS Dog Fence – Best One for Outdoors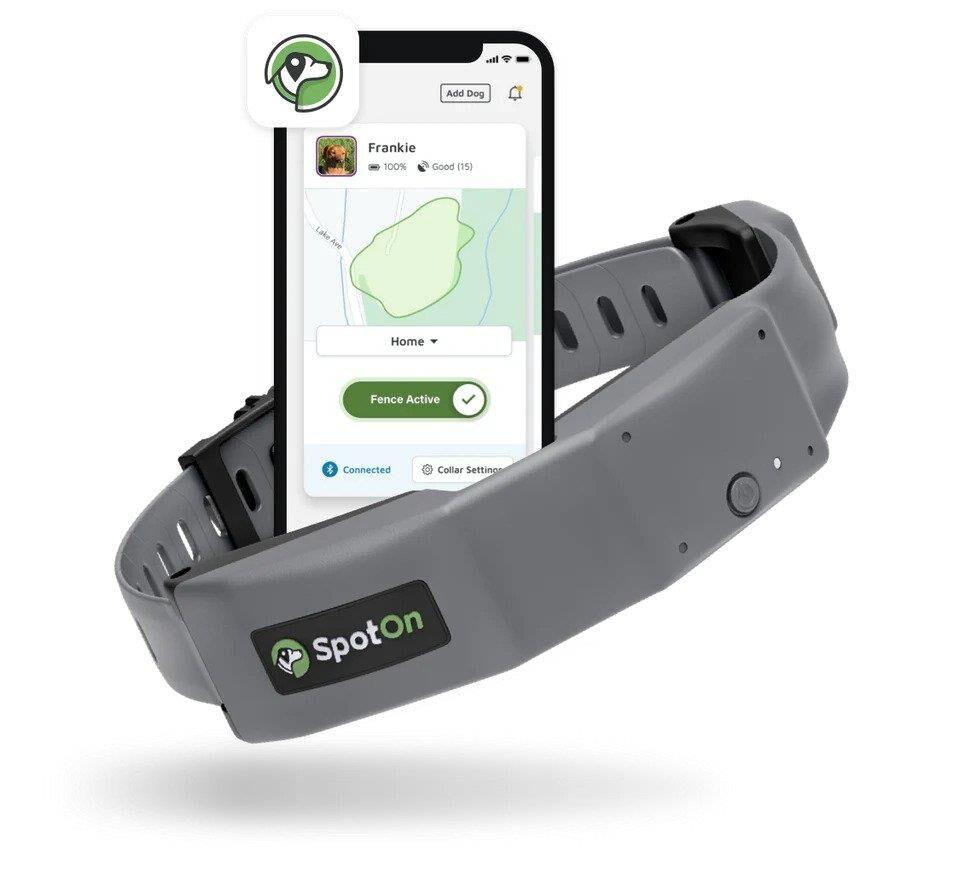 SpotOn GPS Dog Fence –  Best Available Pricing
This alternative is a virtual containment system, which you can use to train your dog and teach them where invisible fences are.
It's the best GPS fence to use outdoors since you don't need WiFi to use it. Moreover, it recognizes the location of your dog within a three-mile radius, and it's been tested by the US military.
With this dog fence, you also get a collar, a static contact point tenser, two contact points, and a charger for your wall.
Benefits
Setting up this GPS fence is immensely straightforward, and you don't need to spend much time figuring out the instructions to get the product to work. You only have to download the app and draw the outlines of where you want your fence to be. Alternatively, you can walk around your property.
The fence's integrity is always safe because GPS technology protects it. Therefore, it will continue working even if there is no cellular service.
If your pup leaves the safe zone, you will immediately receive a notification, and your device will ping every six seconds, letting you know where they are. Your furry friend, on the other hand, will receive corrective warnings until they head back home.
The antenna is at the back of your dog's neck, and this is so in order to get a more accurate boundary reading and better reception.
Finally, SpotOn connects to 20 – 30 satellites all at once to give you the best tracking features, and the collar features a long battery life, so you don't need to worry about replacements for some time. You can check out our full review on the SpotOn Virtual Smart Fence for more info or another great SpotOn Review by Daily WU.
Drawbacks
Even though the SpotOn fence offers top-notch features (particularly if you have a big property), it's $1495, plus an $83 annual subscription. Therefore, it's not affordable for everyone.
You can customize your geofence alerts and location tracking, but for this, you must walk around the perimeter. This might not be ideal for you, especially if you have a large area to cover.
What Makes it Stand Out?
Although it has some drawbacks, the SpotOn collar and GPS fence are famous for being ideal if you have a big property. Pups can get lost quickly when they're playing around, and if you don't want this to happen, a device like this can help you. Here is what makes it unique:
Best for vast, rural spaces
Ideal if you don't have connectivity
It's an adjustable collar that fits different dogs
Long battery life
It's water-resistant
#3 Wagz's Dog Collar – Best Value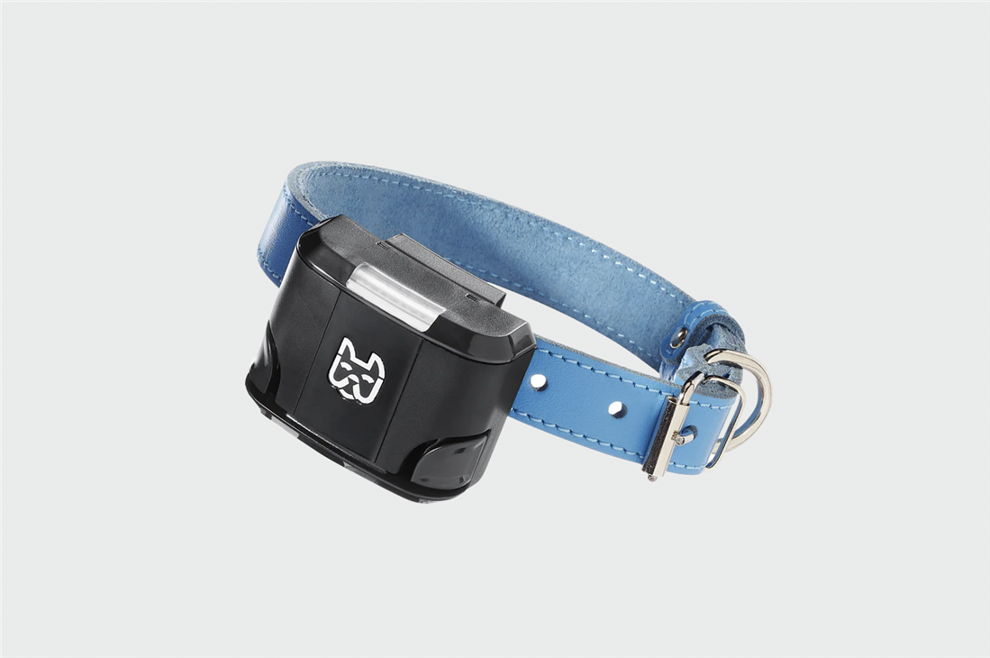 Wagz Freedom Smart Dog Collar – Best Available Pricing
With different features to correct your dog's behavior, the Wagz collar is probably one of the best ones you'll find out there. The brand recently made changes to its products as it wants you to get the best items possible. Now, you get an immensely valuable object for the money you pay.
This collar is ideal if you want to correct your dog's behavior. You can choose between different alternatives to do that, for example, ultrasonic, auditory, or vibration alerts, which help keep your pup inside the fence.
Since the app also includes a step tracker, you can monitor how much your pup walks in a day. Thus, if they're not getting enough exercise, you'll know.
The Wagz collar monitors your dog's whereabouts via cellular service. Lastly, it's ideal for dogs weighing 15 lbs. or more.
Benefits
If you buy the Wagz collar, you get numerous benefits, particularly because this item offers different top-notch features. On the one hand, it locates your dog in case they get lost. Thus, if they wander off the safe zones, you'll immediately receive notifications.
At the same time, this collar helps you correct your dog's behavior with a shock-free
containment system. In other words, the item uses humane methods to help you train your dog. Just choose the areas you want them to stay away from (pools, gardens, etc.), and pick how you want the product to let your dog know they shouldn't be there.
When there is a good cellular signal and clear skies, you'll get optimal GPS tracking. The primary goal of the brand behind this product is for you to always know where your pup is, so the app quickly shows you their location. Furthermore, the subscription is only $8.33 a month.
Lastly, this product monitors your dog's health. It gives you a Health & Happiness score, and you can also see how much they walked, slept, rested, and played in a day.
Drawbacks
The Wagz collar is definitely the most valuable alternative you might find out there. However, its main disadvantage is that it only works when you're in a place with a good cellular signal.
If your cellular signal wavers, you'll lose connectivity and the GPS probably won't work well.
This can also occur if there aren't clear skies. Therefore, it's best if you live in a small area without cellular interference.
What Makes it Stand Out?
The Wagz collar is certainly unique because it combines many different features. It offers both GPS and health-tracking options, so here are the top aspects that make it a one-of-a-kind product:
Tracks activity and health
Gives your dog shock-free corrections
Identifies the exact location of your pup
Ideal for committed pup parents
#4 Smart Dog Collar by Fi – Best for Your Pup's Health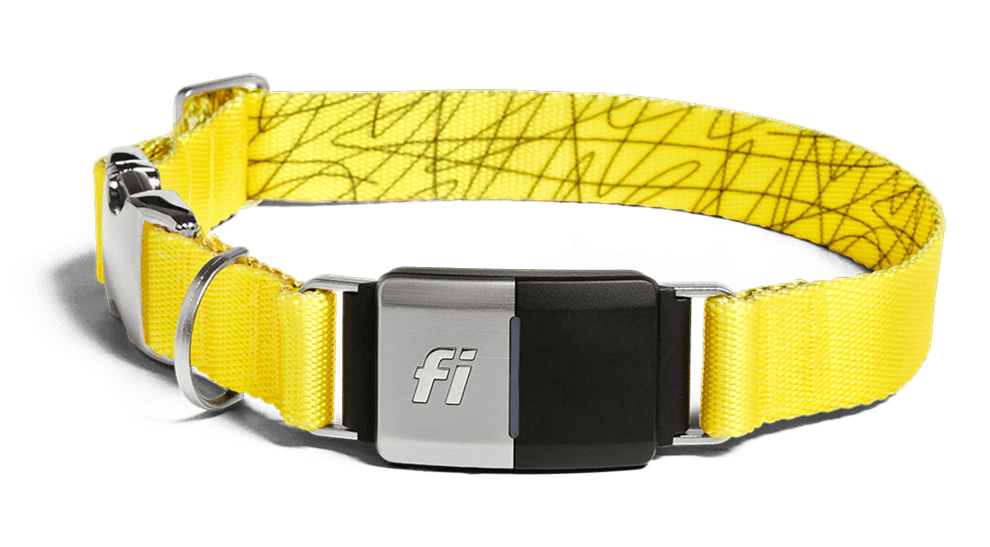 Best Alternative – Halo 2 Dog Collar (Highly Recommended) – Best Available Price
Unlike the previously mentioned products, this one is both a health and fitness tracker and a collar to help you make sure your pup stays in the safe zones.
The dog collar quickly lets you know if your pup left the safe zones by sending you notifications and updating you on their location. With the app, you can check and see if they're in your neighbor's yard, chewing their flowers, or just taking a stroll nearby.
If you're concerned about your dog's fitness, the Fi collar might be the ideal item for you because it lets you see how much they rest, play, and walk in a day.
When you're worried about your pup's health, you might not know what measures to use as a reference to understand if they're improving or not. However, with the Fi collar, you can compare your dog to other ones around the country, for example, and see if they need to walk more to stay fit.
You get a wall charger, batteries, and the tracker itself, and collars are available in four colors: yellow, blue, red, and green.
Benefits
Firstly, it's one of the most affordable alternatives, and you get value for the price you're paying. This item is $149 plus a $99 annual subscription. Even though you must pay more if you want a custom collar, it's still inexpensive compared to other options.
When you set safe zones, circular ones can have up to 60 feet in diameter, whereas polygons offer a minimum of 11,349 square feet.
Setting up the safe zones is very straightforward because you only need to touch the map. Thus, forget about spending much time adjusting the settings when you get this product. You can ensure your pup's safety in just a few minutes.
Furthermore, you get the option to include your dog's information, for example, breed, age, and weight. Even though you can compare their stats to other dogs', this is not crucial for functionality. Therefore, if you're not interested in this feature, you don't have to use it.
It connects to three satellites to determine the location of your dog up to a seven-foot radius. At the same time, it relies on the LTE-M cellular network and on GPS functionality to track your dog's whereabouts.
Drawbacks
You don't get a GPS fence with this collar. Additionally, it doesn't help your dog learn the boundaries you set for them, so if they don't know your place very well and get lost, this item won't help them correct their behavior.
Buying this product means you primarily get a collar to help you count your dog's steps. If they're on a walk and get lost, the app will notify you. However, it clearly doesn't offer as many features as other alternatives.
Even though LTE-M cellular technology works well, you might benefit from this collar better if you have an uninterrupted WiFi connection. Overall, the Fi network works better when your connectivity is stable.
What Makes it Stand Out?
The Fi collar might not offer as many advanced technological features in terms of GPS location and fence installation, but it does give you other benefits that make it unique in comparison to the competitors. Check them out:
Track your dog's steps
Determine how much they rest in a day
Compare your dogs' stats to others
Perfect for dogs that go off-leash
Multi-owner option for multiple dog-walkers
Tracker made of reinforced, resistant metal
You get geofence alerts
How to Choose the Best GPS Collar and Wireless Fence for Your Dog?
There are some things you need to keep in mind if you're purchasing these items, regardless of the specific features you're looking for.
When you're buying a GPS dog collar, you want to ensure that it's capable of telling you the exact location of your dog, especially if they're young.
Puppies can get lost easily, particularly if you're on a big property where they can roam around. With a top-notch GPS collar, you know where your dog is at all times. However, its features must be accurate enough to give you the information you need.
In addition to this, some GPS collars are also activity trackers. Thus, you can use them to know how much your dog walks, sleeps, and plays in a day.
Some owners don't care about this, but if you want to monitor your dog's health, having a collar that tracks these aspects is essential.
Since you only need to download an app to set up these collars, it usually doesn't take up much time. However, you still need to make sure you're outlining the safe zones correctly, especially if your priority is to teach your dog where they can and can't be.
Thus, the primary point to remember when going through different collar options is to think about what your dog needs with regard to where you live. If your property is big, and you know they might get lost, and there is also a lot of cellular interference, the Wagz might not be the best alternative. SpotOn's product could adapt to your needs better.
Moreover, other factors can influence your purchase as well, and you should consider them because they can make you completely change your mind. If you're unable to afford an item or the app subscription, for example, you might need to find a more affordable alternative.
Alternatively, if the collar is only fit for dogs that weigh 15 lbs. or more, it might not be the best option for your small Yorkie.
As you can see, there are numerous aspects to keep in mind, and they go beyond comparing the pros and cons of each product. The following section talks more about when you should make your purchase.
Buying Guide – Don't Make a Purchase Until You're Sure of What You Want
If you already know which product is your favorite, you might be thinking about buying it already, particularly if you're excited about training your dog or worried that they'll run away and you won't be able to find them.
However, making an impulsive decision is never the right option. Instead, you have to write down all the characteristics of each alternative you're considering, weigh the pros and cons, and then ponder on the conclusion.
Most of these items are expensive, and buying one represents a crucial step in your dog-parenting journey. Therefore, if you want to make the right call, you have to know what you're doing.
Some dog parents are new to this, and they often benefit from asking their trusted vet or someone at their local pet store. This might be useful for you, and you can also look at customer reviews online and see what other people have to say about each item.
In the end, it's also a matter of trying out a collar and seeing if it works for your pup. Some pups don't like the feel of behavior-correcting collars' alerts, and it might take some time for them to get used to the product.
Therefore, remember to be patient and consider all the options you have before buying one for your furry friend.
Frequently Asked Questions
What Are the Benefits of Buying a Dog Collar?
Purchasing a dog collar is one of the best things to try out, especially if your pup tends to wander off and get lost.
Modern dog collars have GPS tracking features as well as other characteristics that let you keep your dog safe. At the same time, these items are ideal to allow your dog to safely wander outside without you being afraid of them getting lost.
Lastly, another benefit of buying a collar is that you can strengthen your bond with your dog. Since some of these items let you know how much your pup walked, ran, played, and slept in a day, they're ideal to make you feel as though you're closer to them.
What Should You Do if Your Dog Doesn't Like Collars?
On many occasions, dogs won't like collars. Since numerous options offer behavior-correcting features, your pup might also not enjoy the sensations they feel when the item alerts them of something they shouldn't have done.
However, you have to be patient with your dog. They need some time to get used to wearing the collar, and they must also go through the process of understanding that when they wander off where they shouldn't, the item will let them know they have to go back.
What Should You Look for When Buying a Dog Collar?
When you're buying a GPS dog collar, you must make sure that it fits your specific needs. Every pup owner is looking for something that adapts to what they want, so you must try to find the item that works for you.
There are some products that emphasize the activity-tracking features more than the actual GPS location ones. On the other hand, other models prioritize you knowing exactly where your dog is at all times.
Consequently, you must make your choice based on what you need, and you have to evaluate your requirements and financial and physical possibilities before deciding.
Best GPS Dog Collar and Wireless Fence – Keynote Takeaways
As you know by now, a GPS dog collar and wireless fence help you locate your pup in case they get lost, and it allows you to train them, so it doesn't keep happening anymore.
Even though there are numerous alternatives out there, each one offers unique features.
Overall, the best one is the Halo collar because it's a high-quality, elegant collar with multiple features for you to know where your pup wandered to and train them to avoid it from occurring again. The SpotOn is the runner up, though, with its ability to track your doggy even in big areas.
The Halo also tracks the activity of your dog, and it offers numerous extra features, such as the possibility for you to connect with other pup owners. It has every single strong point that this guide discussed, and although the other products offer some benefits as well, this is definitely the winner for this review.
.